First produced as "Sugar Baby Love" by Val Bolter, Martin Carr & Kevin Monk.
Directed by Steve Driver
Margaret Atkins – Assistant Director/Musical Director
Belles Davidson-Payne – Choreographer
Jack Connelly – Peter Hurley – Lighting
AJ Eade – Sound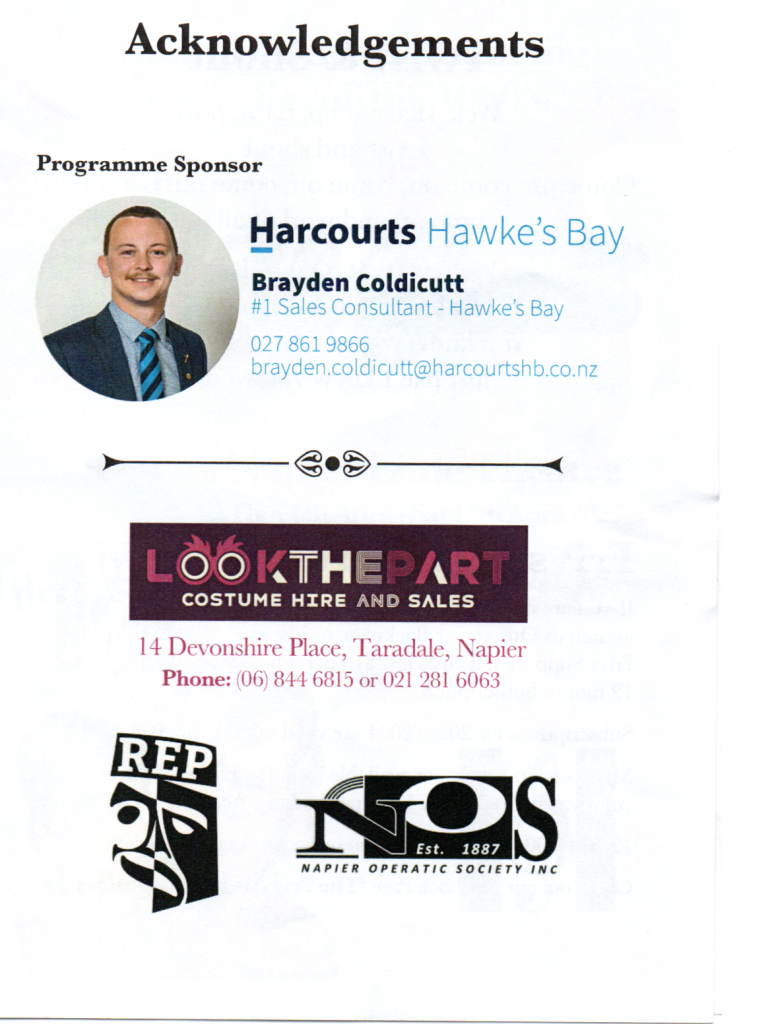 Thank you also to:-
Gray Ruffell
Gavin Crawley
Ken Sutton
Jeff Elkins
Maurice Bartlett
Trish Hacker
Mel Cole
Andre Cole
Jasmine Hacker
Lacey Hacker
Cassidy Hacker
Ruby Hacker
Mika Comire
Meritxell Masachs
Ruth Hosegood
Karen Prebensen
Jeanne Lewis
Rox Batkins
Yvonne King
Missy Christensen
Amy McCarthy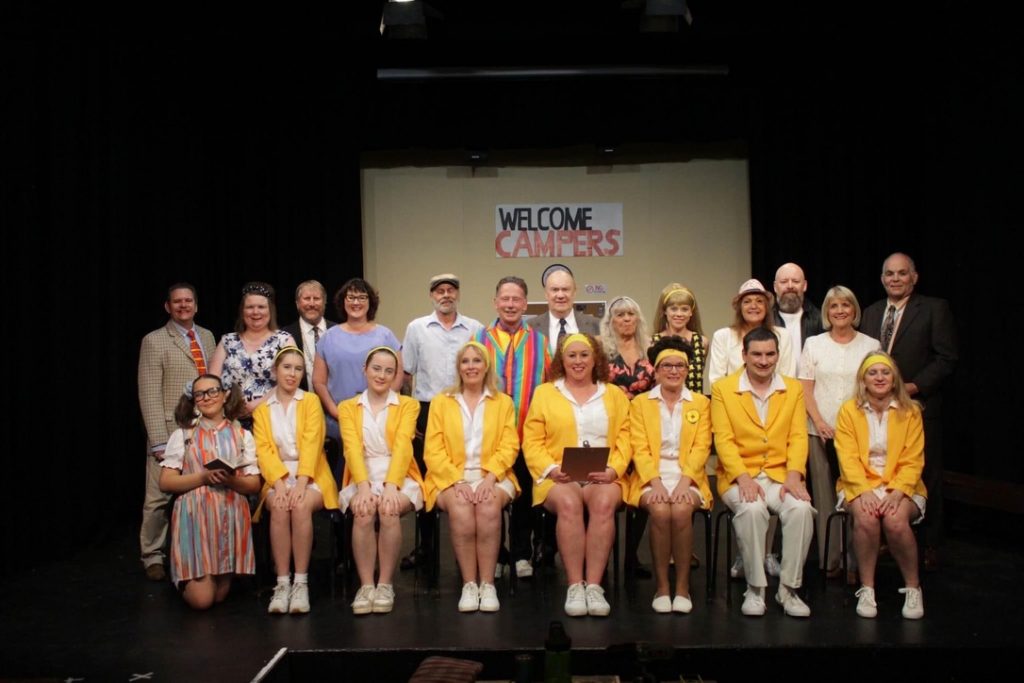 CAST

Peter Coldicutt – Henry Tuck (Camp Comedian)
Andy Kilbane – Robby Hood (Camp Director)
YELLOW COATS
Cola Hunt – Marion Wentwhistle
Deborah Beck-Boyd – Billie Scarlet
Daniel Bowman – John Little
Sue Bidlake – Linda
Juliet Watt – Susan
Isobella Comber – Glad
Jade Montgomerie – Rene
GRINDLEWOOD FAMILY
Kelly Wardle – Mavis (Mum)
Roy Mills – Gordon (Dad)
Isabella Hollands – Lola (daughter)
Maddie Wardle – Edwina (Daughter)
MAYORAL PARTY
John Beck – Mayor C.P Nottingham
Steve Drive – Selwyn Sopworth (Town Clerk)
Lisa Pomeroy – Constance (Connie) Brown
HOLIDAY MAKERS/CAMPERS
Shirley Dalton
Lyn Sealey
Mim Hollands
Garry Mules
Brian Holland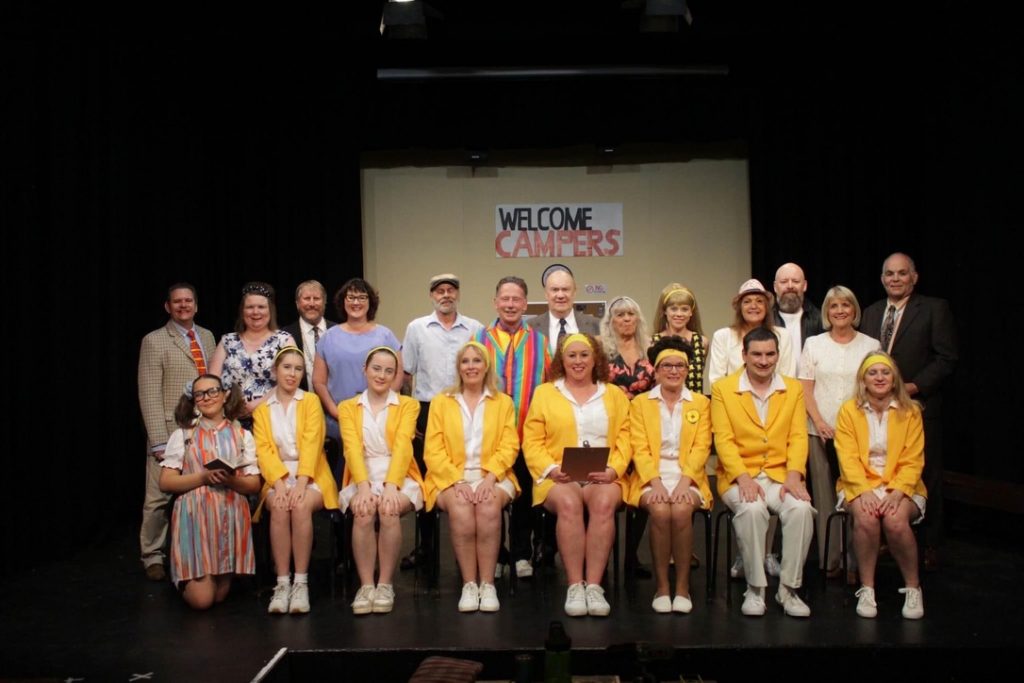 Reviewed by Keith Russell
Music and comedy are a match made in heaven and this is what Napier Frivolity Minstrels have produced for their latest show.
Written by New Zealand playwrights Val Bolter, Martin Carr and Kevin Monk, the show is set in a British holiday camp during a time when skirts were short and hair was long, and with music that defined a generation.
Directed by Steve Driver, who also takes the role of the bumbling Town Clerk, this story moves at a swift pace and I am sure Driver has taken the opportunity to add his own imaginative ideas to an already witty and upbeat script.
From the time Linda, played by Sue Bidlake, introduced us to the camp setting, the action started and it was Cola Hunt, as senior Yellow Coat, who worked tirelessly to anchor the show.
Her entry on stage was always something to look forward to along with a great version of the song I am a Tiger.
Two of the younger camp entertainers, Glad and Rene, played by Isabella Comber and Jade Montgomerie respectively, sang and danced with great projection and energy.
A stand out for me was entertainer, and all-around good guy, Daniel Bowman who was full of expression, confidence and movement. His performance was capped by the arrival of his alter ego Lorna Thrombuster in the fashion parade.
Peter Coldicutt always gives a great performance, and in his role as Camp Comedian, he did not disappoint. Andy Kilbane as the new Camp Director had a great entrance involving an arrow, along with solid singing and a romantic ending.
John Beck, as the Mayor, displayed a talent for fiscal interruption that saw his timely ending.
Lisa Pomeroy, as the council typist, harboured a secret. She can sing, as we saw in the Talent Quest. Special mention to Shirley Dalton and Juliet Watt for a very nice duet.
Choreographer Belles Davidson-Payne had the large, hardworking cast working seamlessly and their singing was a credit to musical director Margaret Atkins.
The set, along with sound and lighting was to a high standard.
The Fivs always do cabaret shows well and much credit must be given to them for involving so many performers, all looking like they were having the time of their lives on stage.
If you don't remember the 60s, this production gives you the opportunity to discover just what you missed, but more importantly what the audience gets is a fantastic night of fun, laughter and dancing that you just cannot beat in these harsh times.